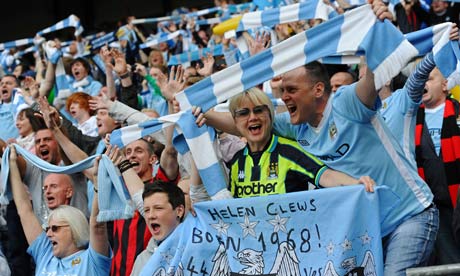 Berikut adalah petikan kata-kata dari mereka yang terlibat secara langsung dalam perlawanan akhir Liga Inggeris. Ianya bakal menjadi sejarah sebagai satu perlawanan akhir yang paling hebat pernah disaksikan.
1. "I would like to say on behalf of Manchester United, congratulations to our neighbours. Anyone who wins the league deserves to win it because it's a very difficult league to win" Sir Alex
2. "Five minutes from the end, I didn't think we'd win this game. To win it like this is incredible. I don't think I've ever seen a finale like this" Mancini.
3. "Well it's been difficult, I came in in January and it was a huge task for us, but we have been able to do it" Mark Hughes.
4. "You want to say it's the best moment of your life but, if I'm honest, please never again this way" Vincent Kompany
5. "What a day. What a season. the journey contiues tomorrow. A lot of foundation has been done since september. Believe the unbelievable. Goodnight all QPR fans and staff and players." Tony Fernandes
6. "Can do nothing but apologise to the players and the fans. Still don't think its a sending off. Tried to take 1 of their players with me…." Joey Barton.
7. "Our fans were brilliant today. Thx for ur support all season. We have to look ahead to next season." Wayne Rooney
8. "Personally I think too many people talked and too many people said bad things about me, and now they have just to shut up." Mario Balotelli.
9. "I knew I made the right decision (to join City) and tonight I want to celebrate with all the fans." Samir Nasri.
10. "Thanks to all our fans for the quality support this season, gutted we didn't get the PL trophy for you today. Next season we'll be stronger." Rio Ferdinand.
11. "I've spoken to my brother Rio and, of course, he wants us to do his United side a favour but my main concern is to get the points for QPR," Anton Ferdinand.